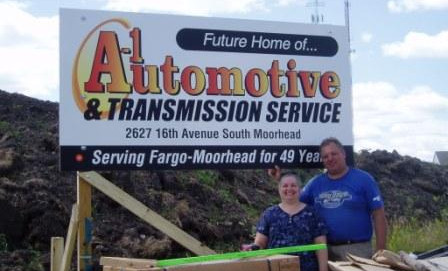 A-1 Automotive & Transmission Service was founded by Allen Bekkerus and Bernel Nelson in 1960. Both of these men were technicians at Anderson Pontiac in Moorhead, MN. They would fix anything from your car to your tractor. In 1967, they refocused and became a specialty transmission and drive train service facility. They ran their business living by 1 rule. "Always do the right thing." In 1994 Bernel retired, and in 2001 Al retired.
Bruce Bekkerus purchased the business after working for Al and Bernie for 17 years. A-1 Automotive has made the transition back to a full service automotive repair facility. After relocating to our new location in the fall of 2009 we now have a state of the art facility with 9 bays including a lift that can lift a 40 foot motor home. We also have an extra long, heavy duty alignment machine.
Bruce continues to run his business with that same goal that Al & Bernie established so long ago:
Always do the right thing.